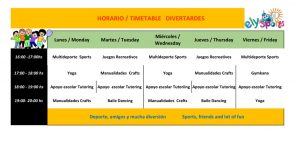 Hello Famiilies
We would like to offer some different activities for your children, like mini tennis, basketball, football, coordination excersises, crafts, yoga, gymkhana, dance and tutorials, and they can enjoy the afternoons with different workshops.
 You can choose one or more workshops with the hours and days of the activity that you like, or simply the full days.
 Register at www.elysports.com or at 650 680 745
We are waiting for you !!!